July 5th, 2018 Posted in
Scholarship news
The Institute of Human Rights and Peace Studies(IHRP), Mahidol University and  the Dignity Institute, Denmark invite qualified applications for two PhD scholarships for Myanmar students  within the field of human rights and detention.
Application deadline: July 25th 2018.
For further information contact Principal Investigator Andrew M. Jefferson amj@dignityinstitute.dk or Ms.
Pannapa (Gift) at ihrpphd@mahidol.ac.th at IHRP, Mahidol University.
To download the forms (including announcement , application form) as a separate file, click below:
Call for PHD scholarship applications_IHRP-Dignity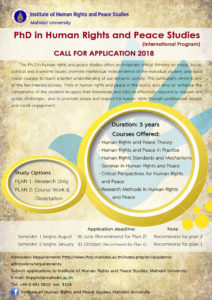 Application Form Doctor of Philosophy in Human Rights and Peace Studies