February 8th, 2019 Posted in
Scholarship news
WUCC2019 aims to promote a global youth's network and cross-cultural friendship among 200 participants. Throughout the 8-day program, the campers will have an opportunity to
EXPLORE Nakhon Si Thammarat, the historical city in the southern Thailand, and Bangkok, the capital city of Thailand,
EXCHANGE cultures,
ENGAGE in various activities and
ENJOY every moment together.
An applicant must be a university student or graduate whose age is not over 30 years old on the camp final date, 1st July 2019 and able to communicate well in English.
For the detail of WUCC 2019, please see the below
Online application
https://docs.google.com/forms/d/e/1FAIpQLScS2FRux3-Z4-SVUPcQv_d0kvCAEqyXSkU1ap0xE7t2MByZ7Q/viewform
WUCC-2019 Program Schedule English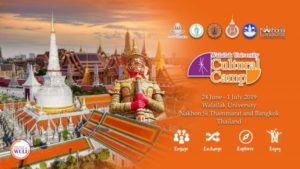 The application is opened from now until 31st March 2019, 11:59 PM (Thailand time).