BRAC University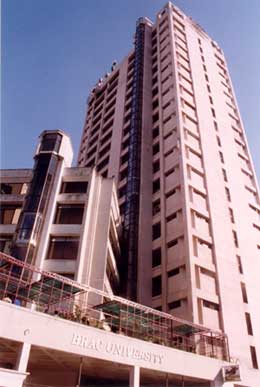 PLEASE NOTE: check directly with the university for updated information: be sure to look for 'international college' or 'international program' or 'international admissions' for information about international students fees; if you canot get the information or applications you require, contact us.
Location
BRAC University 's main campus is located on Mohakhali street in Dhaka, Bangladesh. It has another campus at Savar in Dhaka, called TARC (Training And Resource Center).
Introduction
BRAC University is a private university located in Dhaka, Bangladesh. The University was established by BRAC in 2001 under The Private University Act 1992.. BRAC University had its first convocation in January, 2006. Mr Fazle Hasan Abed is the president of BRACU.
In line with BRAC's continued support to education as a force of change and development, BRAC University has been established to provide a high quality of education to meet the demands of the modern age. BRAC University is 'not for profit' institution accredited by the University Grants Commission (UGC) and approved by the Ministry of Education, Government of Bangladesh. The mission of BRAC University is to foster the national development process through the creation of a centre of excellence in higher education that is responsive to society's needs, and able to develop creative leaders and actively contributes to learning and creation of knowledge. The university seeks to provide an excellent broad based education with a focus on professional development for students, in order to equip them with the knowledge and skill necessary for leading the country in its quest for development. Along with this, the university provides an environment for faculty development in order to ensure a dynamic teaching environment. Faculty will be provided with an environment in which they can further their teaching skills and contribute to the creation of new knowledge by developing and using their research skills.
As the university grows and as its institutional capacity is built up, the University will offer programs in a large number of disciplines. BRAC University will provide instruction and confer degrees in all branches of Arts, Social Science and Science including Medicine, Engineering, Architecture, Agriculture, etc. Degrees will be granted at the undergraduate, graduate and postgraduate (doctoral) levels. In addition, the University will offer Diploma programs on professional courses.
Known For
Department of Architecture (ARC)
Department of Computer Science and Engineering (CSE)
Department of Economics and Social Science (ESS)
Department of English and Humanities (ENH)
Department of Mathematics and Natural Sciences (MNS)
Financial Assistance Available
Up to 100% tuition waiver to those who obtained GPA of 5.0 (without 4th subject) in SSC and HSC from Science, Arts & Commerce groups or have 7 'A's in 'O' Level (in one sitting) & 3 'A's in 'A' Level and on the basis of performance in the admission test.
BRAC-FORD Foundation offers full tuition waiver, living & book allowance for meritorious students from disadvantaged financial backgrounds who obtained (without 4th subject) a GPA of 4.5 from Science, and GPA 4.0 from Arts & Commerce in HSC Examination.
Tuition waiver based on financial needs.
Tuition waiver based on performance.
Parents with two children at BRAC University are offered 50% tuition waiver for the second child.
Physically challenged students will receive special fee waiver at various rates to be determined by the Scholarship Committee on case-by-case basis.
General Application Procedure
Apply online online at www.bracu.ac.bd/apply
A complete application should include:
Completed application form (available on website)
Filled-in ID form with three passport size color photographs, duly attested/identified
Filled-in student's information form
Filled-in medical form
Certified true copies of all certificates and mark sheets (certified English translation of these may be given whenever necessary)
Testimonial / letter of recommendation from institution last attended
Evidence of payment of application fees
Important Dates
APPLICATION DEADLINE:
June 1 for Fall Semester
November 1 for Spring Semester
March 1 for Summer Semester
Degrees Offered
Bachelor:
At present, the university offers following undergraduate degrees: Bachelor of Architecture (B. ARCH), Bachelor of Business Administration (BBA), Bachelor of Science (BS) in Computer Science and Engineering (CSE), Bachelor of Science (BS) in Computer Science (CS), Bachelor of Science (BS) in Electronics & Communication Engineering (ECE), Bachelor of Science (BS) in Physics, Bachelor of Laws (LLB Hons), Bachelor of Social Science (BSS) in Economics and Bachelor of Arts (BA) in English. The University offers following graduate degrees: Master of Business Administration (MBA), Master of Development Studies (MDS), Master of Bank Management (MBM), Master of Science in Biotechnology, Master of Disaster Management (MDM), Master of Arts (MA) in English, Master of Science in Applied Economics (MS.AE), Master of Arts in Governance and Development (MAGD), Master of Public Health (MPH) and Master of Education (MEd).
Master and above:
BRAC University also offers Post Graduate Diplomas in Disaster Management, Development Studies and Certificate courses in Disaster Management, ICT and Development, Social Communication, CISCO Certified Network Associate (CCNA), English Proficiency and Development, and IELTS (Preparatory)