The virtual workshop will connect 35 participants from across ASEAN and Timor-Leste to build theoretical and practical knowledge about aquatic issues and sustainable economic development of ocean and river resources; expose participants to examples of viable business models for sustainable water resource, aquaculture and fisheries management, particularly socially-responsible SMEs; develop leadership skills; and challenge participants […]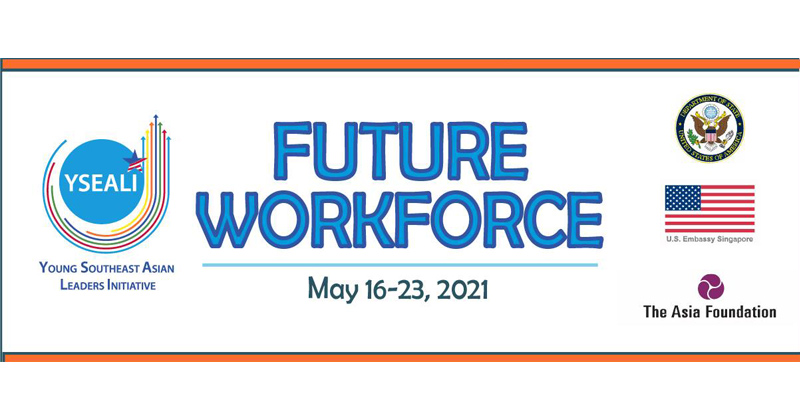 The 2021 YSEALI Workshop on Future Workforce is for students, entrepreneurs, and young professionals ages 20-35 from across ASEAN.
The virtual workshop will include a series of online skills-building sessions, activities, speakers, virtual tours of Singapore-based U.S. companies highlighting future workforce initiatives, as well as mentoring and networking opportunities with leaders from the region and the United States. The schedule will include a full program on Sunday, May 16, two hours of commitment each evening during the week through a combination of interactive and self-directed work, and two full-day sessions on the final weekend of the program.
The program, arranged in partnership with the American Chamber of Commerce in Singapore will connect 60 participants from across ASEAN and showcase innovative approaches to leveraging the Fourth Industrial Revolution (4IR); explore 4IR challenges and opportunities and how they impact the future of work; and allow participants to connect with peers and leading experts.