Canada is the world's second largest country by total area, and shares land borders with the United States to the south and northwest. Canada is a federation of ten provinces and three territories. As a developed Western democracy, Canada scores well in business freedom, property rights, labor freedom, and fiscal freedom. Canada is one of the world's wealthiest nations with a high per capita income. Technologically advanced and industrialized, Canada maintains a diversified economy that is heavily reliant upon its abundant natural resources. More than that Canada is the sixth largest foreign investor in the United States.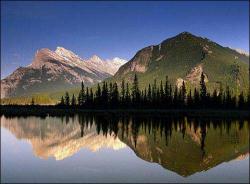 | Area: | 9,984,670 sq km |
| --- | --- |
| Population: | 33,759,742 |
| Religion: | Roman Catholic 42.6%, Protestant 23.3% (including United Church 9.5%, Anglican 6.8%, Baptist 2.4%, Lutheran 2%), other Christian 4.4%, Muslim 1.9%, other and unspecified 11.8%, none 16% |
| Languages: | English (official) 58.8%, French (official) 21.6%, other 19.6% |
| Government type: | a parliamentary democracy, a federation, and a constitutional monarchy |
| Capital: | Ottawa |
| Currency: | Canadian Dollar |
Background
A land of vast distances and rich natural resources, Canada became a self-governing dominion in 1867 while retaining ties to the British crown. Economically and technologically the nation has developed in parallel with the US, its neighbor to the south across an unfortified border. Canada faces the political challenges of meeting public demands for quality improvements in health care and education services, as well as responding to separatist concerns in predominantly francophone Quebec. Canada also aims to develop its diverse energy resources while maintaining its commitment to the environment.
Economy
As an affluent, high-tech industrial society in the trillion-dollar class, Canada resembles the US in its market-oriented economic system, pattern of production, and affluent living standards. Since World War II, the impressive growth of the manufacturing, mining, and service sectors has transformed the nation from a largely rural economy into one primarily industrial and urban. Given its great natural resources, skilled labor force, and modern capital plant, Canada enjoys solid economic prospects. Exports account for roughly a third of GDP. Canada enjoys a substantial trade surplus with its principal trading partner, the US, which absorbs about 85% of Canadian exports. Canada is the US' largest foreign supplier of energy, including oil, gas, uranium, and electric power.
Geography
The most densely populated part of the country is the Quebec City-Windsor Corridor along the Great Lakes and Saint Lawrence River in the southeast. To the north of this region is the broad Canadian Shield, an area of rock scoured clean by the last ice age, thinly soiled, rich in minerals, and dotted with lakes and rivers—Canada by far has more lakes than any other country in the world and has a large amount of the world's freshwater. In eastern Canada, the Saint Lawrence River widens into the Gulf of Saint Lawrence, the world's largest estuary. Ontario and Hudson Bay dominate central Canada. West of Ontario, the broad, flat Canadian Prairies spread toward the Rocky Mountains, which separate them from British Columbia. The northern Canadian mainland is ringed with a vast archipelago containing some of the world's largest islands. Average winter and summer high temperatures across Canada vary depending on the location. Winters can be harsh in many regions of the country.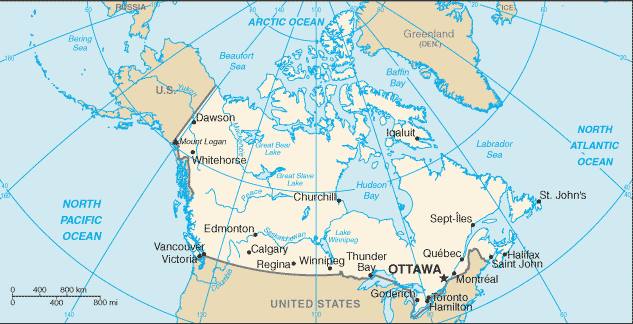 Culture
Canadian culture has historically been influenced by British, French, and Aboriginal cultures and traditions. It has also been influenced by American culture because of its proximity and migration between the two countries. American media and entertainment are popular if not dominant in Canada; conversely, many Canadian cultural products and entertainers are successful in the US and worldwide. The creation and preservation of distinctly Canadian culture are supported by federal government programs, laws and institutions. Canada is a geographically vast and ethnically diverse country. There are cultural variations and distinctions from province to province and region to region. Canadian culture has also been greatly influenced by immigration from all over the world. Many Canadians value multiculturalism, and see Canadian culture as being inherently multicultural.
Education
Education in Canada is provided, funded and overseen by federal, provincial, and local governments. Education is within provincial jurisdiction and the curriculum is overseen by the province, without a ministry of education at the federal or national level.
Education in Canada is generally divided into Elementary (Primary School, Public School), followed by Secondary (High School) and Post Secondary (University, College). Education is compulsory up to an age of 16. Canada generally has 190 school days in the year, officially starting from September (after Labour Day) to the end of June (usually the last Friday of the month, Wednesday in Ontario in Catholic Schools).
Starting at grade one, at about age six, there is universal publicly funded access up to grade twelve (or equivalent). Dependant on the province the age of mandatory entry is at 5-7 years, age 6 is the age at which elementary school begins in grade 1. Children are required to attend school until the age of sixteen (Age 18 in Ontario, Age 15 in Alberta). About one out of ten Canadians does not have a high school diploma — one in seven has a university degree — the adult population that is without a high school diploma is a combination of both immigrant and Canadian-born.
In Quebec, the Catholic/Protestant divide was replaced with a French/English one in 1998. Quebecois must attend a French School up until the end of high school unless one of their parents previously attended an English-language school somewhere in Canada (immigrants from other countries cannot use this exception).
Most Canadian education systems continue up to grade twelve (age seventeen to eighteen). In Quebec, the typical high school term ends after Secondary V, the same as to grade eleven (age sixteen to seventeen); following this, students who wish to pursue their studies to the university level have to attend CEGEP.
In Canada, secondary schooling, known as high school, "école secondaire" or secondary school, differs depending on the province in which one resides. Additionally, grade structure may vary within a province and even within a school division. Typically, Canada's secondary school system follows the American pattern with some variations.
Pre-university CEGEP programs are two years in Quebec (university for Quebecers is three years), and vocational or professional programs are three years in duration.
Post-secondary education in Canada is also the responsibility of the individual provinces and territories. Those governments provide the majority of funding to their public post-secondary institutions, with the remainder of funding coming from tuition fees, the federal government, and research grants. Compared to other countries in the past, Canada has had the highest tertiary school enrollment as a percentage of their graduating population.
Nearly all post-secondary institutions in Canada have the authority to grant academic credentials (i.e., diplomas or degrees). Generally speaking, universities grant degrees (e.g., bachelor's, master's or doctorate degrees) while colleges, which typically offer vocationally-oriented programs, grant diplomas and certificates. However, some colleges offer applied arts degrees that lead to or are equivalent to degrees from a university.
Post-secondary education in Quebec begins with CEGEP (collèges d'enseignement général et professionnel), following graduation from Grade 11 (or Secondary V). Students complete a two- or three-year general program leading to admission to a university, or a professional program leading directly into the labour force. In most cases, bachelor's degree programs in Quebec are three years instead of the usual four; however, in many cases, students attending a university in Quebec that did not graduate from CEGEP must complete an additional year of coursework. When Ontario had five years of high school, a three-year bachelor's degree was common, but these degrees are being phased out in favour of the four-year degree.
The main variation between the provinces, with respect to universities, is the amount of funding they receive. Universities in Quebec receive the most funding and have the lowest tuitions. Universities in Atlantic Canada generally receive the least funding and some, like Acadia University, are almost wholly reliant on private funding.
At present, all private universities in Canada maintain a religious history or foundation. British Columbia's Quest University will become the first privately funded liberal arts university without a denominational affiliation (although it is not the first private liberal arts university). Many provinces, including Ontario and Alberta, have passed legislation allowing private degree-granting institutions (not necessarily universities) to operate there.
Many Canadians remain polarized on the issue of permitting private universities into the Canadian market. On the one hand, Canada's top universities find it difficult to compete with the private American powerhouses because of funding, but on the other hand, the fact that the price of private universities tends to exclude those who cannot pay that much for their education could prevent a significant portion of Canada's population from being able to attend these schools.
Myanmar Connections
If you have additional information or suggestions for this section, please contact myanmarstudyabroad@gmail.com