Hong Kong is one of the two special administrative regions of the People Republic of China (PRC). It is held in high regard and there is a deep reservoir of goodwill for Hong Kong around the world. Hong Kong is also seen as a place where the best of the East and the West blend together to form a truly world-class international city. It is considered not only as a gateway to the Mainland of China, but, equally important, as a gateway to the rest of Asia. It maintains a highly capitalist economy built on a policy of free market, low taxation and government non-intervention. Hong Kong is the wealthiest urban centre in the People's Republic of China and it is the world's eleventh largest trading entity, with the total value of imports and exports exceeding its gross domestic product.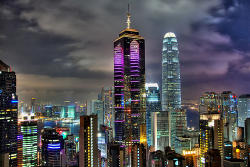 | Area: | 1,104 sq km |
| --- | --- |
| Population: | 7,089,705 |
| Religion: | eclectic mixture of local religions 90%, Christian 10% |
| Languages: | Cantonese 90.8% (official), English 2.8% (official), Putonghua (Mandarin) 0.9%, other Chinese dialects 4.4%, other 1.1% |
| Government type: | limited democracy |
| Capital: | Hong Kong |
| Currency: | Hong Kong Dollar |
Background
Occupied by the UK in 1841, Hong Kong was formally ceded by China the following year; various adjacent lands were added later in the 19th century. Pursuant to an agreement signed by China and the UK on 19 December 1984, Hong Kong became the Hong Kong Special Administrative Region (SAR) of China on 1 July 1997. In this agreement, China has promised that, under its "one country, two systems" formula, China's socialist economic system will not be imposed on Hong Kong and that Hong Kong will enjoy a high degree of autonomy in all matters except foreign and defense affairs for the next 50 years.
Economy
Hong Kong has a free market economy highly dependent on international trade. The territory has become more closely linked to mainland China over the past few years. Even before Hong Kong reverted to Chinese administration on 1 July 1997, it had extensive trade and investment ties with China. Hong Kong's service industry over the past decade has grown rapidly as its manufacturing industry has moved to the mainland. Hong Kong also has stepped up its efforts to gain approval to offer more mainland financial services in a bid to remain competitive with China's growing financial centers. Hong Kong's natural resources are limited, and food and raw materials must be imported. Per capita GDP exceeds that of the four big economies of Western Europe. GDP growth averaged a strong 5% from 1989 to 2006, but Hong Kong suffered two recessions in the past eight years because of the Asian financial crisis in 1997-98 and the global downturn in 2001-02. Although the Severe Acute Respiratory Syndrome (SARS) outbreak in 2003 also battered Hong Kong's economy, a solid rise in exports, a boom in tourism from the mainland because of China's easing of travel restrictions, and a return of consumer confidence resulted in the resumption of strong growth from late 2003 through 2006. Moreover, several large initial public offerings of Chinese companies on the Hong Kong stock exchange since late 2005 have helped to boost Hong Kong's status as a financial hub and have contributed to the improved performance of the market in late 2006.
Geography
Hong Kong consists primarily of Hong Kong Island, Lantau Island, Kowloon Peninsula and the New Territories as well as some 260 other islands. The Kowloon Peninsula is attached to the New Territories to the north, and the New Territories spans northwards eventually connecting with mainland China across the Sham Chun River (Shenzhen River). In total, Hong Kong encompasses a collection of 262 islands in the South China Sea, of which Lantau is the largest. Hong Kong Island is the second largest island and the most populated. The name "Hong Kong", which literally translates to mean "fragrant harbor", is derived from the area around present-day Aberdeen on Hong Kong Island. This is an area where fragrant wood products and fragrant incense were once traded.
Despite Hong Kong's reputation of being intensely urbanized, the territory has made much effort to promote a green environment. Much of the territory remains undeveloped as the terrain is mostly hilly to mountainous with steep slopes. Hong Kong's climate is subtropical and prone to monsoons. It is cooler and dry in the wintertime which lasts from around December to early March, and is hot, humid and rainy from spring through summer. It is warm, sunny, and dry in autumn. Hong Kong occasionally has tropical cyclones in the summer and early autumn. The highest recorded temperature in Hong Kong is 38°C while the lowest recorded temperature is -4°C.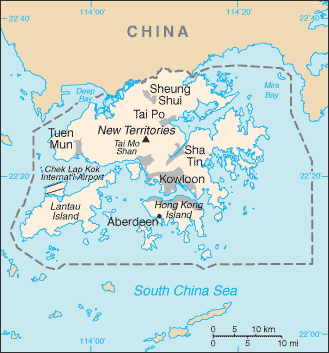 Culture
Hong Kong is frequently described as a place where East meets West, a meeting reflected in its economic infrastructure, education and street culture. The territory's official languages are Chinese and English; signs in both languages are omnipresent throughout Hong Kong. The government, police and most workplaces and stores conduct business bilingually. British rule may have ended a decade ago but Western culture is deeply ingrained in Hong Kong and coexists seamlessly with traditional philosophy and practices of the Orient. The city's cosmopolitan flavor can also be seen in the wide variety of cuisines available. While Hong Kong is a global center of trade, perhaps the city's most famous export is its entertainment industry, particularly in the martial arts genre. Several Hollywood performers originate from Hong Kong cinema. The Hong Kong government also supports cultural institutions such as the Hong Kong Heritage Museum, Hong Kong Museum of Art, the Hong Kong Academy for Performing Arts and the Hong Kong Philharmonic Orchestra.
Education
Secondary education in Hong Kong is largely based on the English schooling system, with single-sex education being widespread. In Form 4, most students of grammar schools are required to choose between streams, namely "Science", "Arts" and "Commerce", depending on the school policy. This end of Form 5 leads to Hong Kong Certificate of Education Examination (HKCEE). The exam is equivalent to the UK's GCSEs or O-levels exams. Students obtaining a satisfactory grade in the HKCEE will be promoted to Form 6. The Hong Kong Advanced Level Examination (HKALE) then acts as the de facto university entrance examination akin to the UK's GCE A-levels.
At this level streaming is even more rigidly specialized dividing into Mathematics/Engineering stream, Biology/Medical stream or Arts stream for example. Prerequisites for university admissions include Grade "E" or better in the HKALE Chinese Language and Culture and Use of English subjects. The Joint University Programs Admissions System (JUPAS) determines admission to tertiary institutions largely based on HKALE results. In addition, students achieving more than 6 'A's in their HKCEEs are eligible to apply for early admissions through the Early Admissions Scheme (EAS) including The Chinese University of Hong Kong (CUHK), The University of Hong Kong (HKU) and The Hong Kong University of Science and Technology (HKUST).
With 8 universities and several other tertiary institutions in just one city, tertiary education plays a key role in the education system. Of the 36,660 students who attended the HKALE in 2003, 18,049 (49.2%) of them fulfilled their general entry requirement to their respective university, usually a pass in Chinese Language and Culture and Use of English, plus another two A-level subjects (or one A-level subject and two AS-level subjects). Students who sit for the HKALE first time have a success rate of 75.8%. There are 19 different Advanced Level (UK) and 20 different AS-level subjects available.
International students apply on a per school basis.
At the time of writing March 2007, a new Senior Secondary School curriculum has been promulgated. Secondary education will move away from the English model of five years secondary schooling plus two years of university matriculation to the Chinese model of three years of junior secondary plus another three years of senior secondary, with the Form 1 intake in the 2007-08 academic year the first crop to graduate under the new system. Streaming of classes according to subjects offered will be abolished, and the two public exams HKCEE and HKALE will be merged into one public exam, called the Hong Kong Diploma in Secondary Education, sat at the end of the Senior Secondary 3 (Form 6 under the existing system), and expanding school based assessment. University education will extend from three years to four.
Myanmar Connections
If you have additional information or suggestions for this section, please contact myanmarstudyabroad@gmail.com
Cost profile
The cost of undergraduate, full-degree, full-time programs tend to be around HK$40,000 – 50,000 a year, with the cost being higher for engineering and medical students. The reason for this relatively low cost is due to heavy government subsidization. Being an international city, Hong Kong's tertiary institutions attract many foreign exchange students from US, UK, Switzerland, Canada, Italy, Singapore to name a few.
List of universities selected for high quality and/or connections to Myanmar