The United States of America is a federal constitutional republic comprising fifty states and a federal district. The USA is home to several of the world's most exciting cities, some truly mind-blowing landscapes, a strong sense of regionalism, a trenchant, more history than the country gives itself credit for and, arguably, some of the most approachable natives in the world. The US was fashioned from an incredibly disparate population who had little in common apart from a desire to choose their own path to wealth. The United States has a capitalist economy, which is fueled by abundant natural resources, a well-developed infrastructure, and high productivity. The United States economy has the world's largest gross domestic product (GDP). The United States is the largest importer of goods and second largest exporter.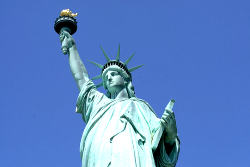 | Area: | 9,826,675 sq km |
| --- | --- |
| Population: | 310,232,863 |
| Religion: | Protestant 51.3%, Roman Catholic 23.9%, Mormon 1.7%, other Christian 1.6%, Jewish 1.7%, Buddhist 0.7%, Muslim 0.6%, other or unspecified 2.5%, unaffiliated 12.1%, none 4% |
| Languages: | English 82.1%, Spanish 10.7%, other Indo-European 3.8%, Asian and Pacific island 2.7%, other 0.7% |
| Government type: | Constitution-based federal republic |
| Capital: | Washington |
| Currency: | United States Dollar |
Background
Britain's American colonies broke with the mother country in 1776 and were recognized as the new country of the United States of America following the Treaty of Paris in 1783. During the 19th and 20th centuries, 37 new states were added to the original 13 as the nation expanded across the North American continent and acquired a number of overseas possessions. The two most traumatic experiences in the nation's history were the Civil War (1861-65) and the Great Depression of the 1930s.
Economy
The US has the largest and most technologically powerful economy in the world, with a per capita GDP of $43,500. In this market-oriented economy, private individuals and business firms make most of the decisions, and the federal and state governments buy needed goods and services predominantly in the private marketplace. US firms are at or near the forefront in technological advances, especially in computers and in medical, aerospace, and military equipment; their advantage has narrowed since the end of World War II. The onrush of technology largely explains the gradual development of a "two-tier labor market" in which those at the bottom lack the education and the professional/technical skills of those at the top and, more and more, fail to get comparable pay raises, health insurance coverage, and other benefits. Since 1975, practically all the gains in household income have gone to the top 20% of households. Soaring oil prices in 2005 and 2006 threatened inflation and unemployment. Imported oil accounts for about two-thirds of US consumption. Long-term problems include inadequate investment in economic infrastructure, rapidly rising medical and pension costs of an aging population, sizable trade and budget deficits, and stagnation of family income in the lower economic groups.
Geography
The United States is the world's fourth largest nation by total area. The continental United States stretches from the Atlantic Ocean to the Pacific Ocean and from Canada to Mexico and the Gulf of Mexico. Alaska is the largest state in area. Separated by Canada, it touches the Pacific and Arctic Oceans. Hawaii occupies an archipelago in the Pacific, southwest of North America. Deciduous vegetation and grasslands prevail in the eastern U.S., transitioning to prairies, boreal forests, and the Rocky Mountains in the west, and deserts in the southwest. In the northeast, the coasts of the Great Lakes and Atlantic seaboard host much of the country's population. The Rocky Mountains, at the western edge of the Great Plains, extend north to south across the continental U.S., reaching altitudes higher 4,270 m in Colorado. Between the Appalachian and Rocky Mountains, the Interior Plains and Great Plains are relatively flat, fertile farm land. The Mississippi-Missouri River, the world's fourth longest river system, runs mainly north-south through the heart of the country. Due to the United States' large size and wide range of geographic features, nearly every type of climate is represented. The climate is temperate in most areas, tropical in Hawaii and southern Florida, polar in Alaska, semiarid in the Great Plains west of the 100th meridian, desert in the Southwest, Mediterranean in coastal California, and arid in the Great Basin.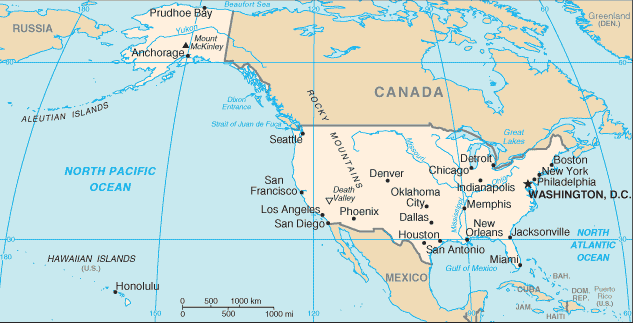 Culture
The United States is a culturally diverse nation, home to a wide variety of ethnic groups, traditions, and values. The culture held in common by the majority of Americans is referred to as "mainstream American culture," a Western culture largely derived from the traditions of Western European migrants, beginning with the early English and Dutch settlers. German, Scottish, and Irish cultures have also been very influential. Certain Native American traditions and many cultural characteristics of enslaved West Africans were absorbed into the American mainstream. Westward expansion brought close contact with the culture of Mexico, and large-scale immigration in the late nineteenth and early twentieth centuries from Southern and Eastern Europe introduced many new cultural elements. More recent immigration from Asia and especially Latin America has had broad impact. While American culture maintains that the U.S. is a classless society, economists and sociologists have identified cultural differences between the country's social classes, affecting socialization, language, and values. Americans' self-images, social viewpoints, and cultural expectations are associated with their occupations to an unusually close degree. Women, formerly limited to domestic roles, now mostly work outside the home and receive a majority of bachelor's degrees.
Education
Education in the United States is provided mainly by government, with control and funding coming from three levels: federal, state, and local. School attendance is mandatory and nearly universal at the elementary and high school levels (often known outside the United States as the primary and secondary levels). At these levels, school curricula, funding, teaching, and other policies are set through locally elected school boards with jurisdiction over school districts. School districts are usually separate from other local jurisdictions, with independent officials and budgets. Educational standards and standardized testing decisions are usually made by state governments.
The age for beginning school is mandated by state law and therefore varies slightly from state to state, but in general children are required to begin school with a one-year Kindergarten class during the year in which they turn 4 or 5. They are required to continue attending school until the age of 16 to 18, depending on the state, with a growing number of states now requiring school attendance until the age of 18. Some states have exemptions for those 14-18.
Students may attend public schools, private schools, or homeschool. In most public and private schools, education is divided into three levels: elementary school, junior high school (also often called middle school), and senior high school. In almost all schools at these levels, children are divided by age groups into grades, ranging from Kindergarten (followed by first grade) for the youngest children in elementary school, up to twelfth grade, which is the final year of high school. The exact age range of students in these grade levels varies slightly from area to area.
Post-secondary education, better known as "college" or "university" in the United States, is generally governed separately from the elementary and high school system, and is described in a separate section below.
Junior high school is any school intermediate between elementary school and senior high school. It usually includes grades seven and eight, and sometimes six or nine. In some locations, junior high school includes grade nine only, allowing students to adjust to a high school environment. Middle school is often used instead of junior high school when demographic factors increase the number of younger students. At this time, students are given more independence as choosing their own classes. Starting in ninth grade, grades become part of a student's official transcript. Future employers or colleges may want to see steady improvement in grades and a good attendance record on the official transcript. Therefore, students are encouraged to take much more responsibility for their education.
Senior high school is a school attended after junior high school. High school is often used instead of senior high school and distinguished from junior high school.
A major characteristic of American schools is the high priority given to sports, clubs and activities by the community, the parents, the schools and the students themselves. Extracurricular activity is educational activities not falling within the scope of the regular curriculum but under the supervision of the school. These activities can extend to large amounts of time outside the normal school day; home-schooled students, however, are not normally allowed to participate. Student participation in sports programs, drill teams, bands, and spirit groups can amount to hours of practices and performances. Most states have organizations which develop rules for competition between groups. These organizations are usually forced to implement time limits on hours practiced as a prerequisite for participation. Many schools also have non-varsity sports teams, however these are usually afforded less resources and attention. The idea of having sports teams associated with high schools is relatively unique to the United States in comparison with other countries.
Unlike most other industrialized countries, the United States does not have a centralized educational system on the national scale. Thus, K-12 students in most areas have a choice between free tax-funded public schools, or privately-funded, private schools. All public school systems are required to provide an education free of charge to everyone of school age in their districts. Admission to individual public schools is usually based on residency.
Private schools in the United States include parochial schools (affiliated with religious denominations), non-profit independent schools, and for-profit private schools. Private schools charge varying rates depending on geographic location, the school's expenses, and the availability of funding from sources, other than tuition.
Post-secondary education in the United States is known as college or university and commonly consists of four years of study at an institution of higher learning. Like high school, the four undergraduate grades are commonly called freshman, sophomore, junior, and senior years (alternately called first year, second year, etc.). Students traditionally apply to receive admission into college, with varying difficulties of entrance. Schools differ in their competitiveness and reputation; generally, the most prestigious schools are private, rather than public. Admissions criteria involve the rigor and grades earned in high school courses taken, the students' GPA, class ranking, and standardized test scores (Such as the SAT or the ACT tests). Most colleges also consider more subjective factors such as a commitment to extracurricular activities, a personal essay, and an interview. While numerical factors rarely ever are absolute required values, each college usually has a rough threshold below which admission is unlikely.
Once admitted, students engage in undergraduate study, which consists of satisfying university and class requirements to achieve a bachelor's degree in a field of concentration known as a major. (Some students enroll in double majors or "minor" in another field of study.) The most common method consists of four years of study leading to a Bachelor of Arts (B.A.), a Bachelor of Science (B.S.), or sometimes (but rarely) another bachelor's degree such as Bachelor of Fine Arts (B.F.A.), Bachelor of Social Work (B.S.W.), Bachelor of Engineering (B.Eng.,) or Bachelor of Philosophy (B.Phil.) Five-Year Professional Architecture programs offer the Bachelor of Architecture Degree (B.Arch.)
Unlike in the British model, degrees in law and medicine are not offered at the undergraduate level and are completed as graduate study after earning a bachelor's degree. Neither field specifies or prefers any undergraduate major, though medicine has set prerequisite courses that must be taken before enrollment.
Some students choose to attend a community college for two years prior to further study at another college or university. In most states, community colleges are operated either by a division of the state university or by local special districts subject to guidance from a state agency. Community colleges may award Associate of Arts (AA) or Associate of Science (AS) degree after two years. Those seeking to continue their education may transfer to a four-year college or university (after applying through a similar admissions process as those applying directly to the four-year institution, see articulation). Some community colleges have automatic enrollment agreements with a local four-year college, where the community college provides the first two years of study and the university provides the remaining years of study, sometimes all on one campus. The community college awards the associate's degree, and the university awards the bachelor's and master's degrees.
Graduate study, conducted after obtaining an initial degree and sometimes after several years of professional work, leads to a more advanced degree such as a master's degree, which could be a Master of Arts (MA), Master of Science (MS), Master of Business Administration (MBA), or other less common master's degrees such as Master of Education (MEd), and Master of Fine Arts (MFA). After additional years of study and sometimes in conjunction with the completion of a master's degree, students may earn a Doctor of Philosophy (Ph.D.) or other doctoral degree, such as Doctor of Arts, Doctor of Education, Doctor of Theology, Doctor of Medicine, Doctor of Pharmacy, Doctor of Physical Therapy, or Doctor of Jurisprudence. Some programs, such as medicine, have formal apprenticeship procedures post-graduation like residency and internship which must be completed after graduation and before one is considered to be fully trained. Other professional programs like law and business have no formal apprenticeship requirements after graduation (although law school graduates must take the bar exam in order to legally practice law in nearly all states).
Entrance into graduate programs usually depends upon a student's undergraduate academic performance or professional experience as well as their score on a standardized entrance exam like the Graduate Record Examination (GRE-graduate schools in general), the Medical College Admissions Test (MCAT), or the Law School Admissions Test (LSAT). Many graduate and law schools do not require experience after earning a bachelor's degree to enter their programs; however, business school candidates are usually required to gain a few years of professional work experience before applying. Only 8.9 percent of students ever receive postgraduate degrees, and most, after obtaining their bachelor's degree, proceed directly into the workforce.
Myanmar Connections
Information coming soon…
If you have additional information or suggestions for this section, please contact myanmarstudyabroad@gmail.com
Cost profile
The vast majority of students (up to 70 percent) lack the financial resources to pay tuition up front and must rely on student loans and scholarships from their university, the federal government, or a private lender. All but a few charity institutions charge all students tuition, although scholarships (both merit-based and need-based) are widely available. Generally, private universities charge much higher tuition than their public counterparts, which rely on state funds to make up the difference. Because each state supports its own university system with state taxes, most public universities charge much higher rates for out-of-state students. Private universities are generally considered to be of higher quality than public universities, although there are many exceptions.
Annual undergraduate tuition varies widely from state to state, and many additional fees apply. A typical year's tuition at a public university (for residents of the state) is about $5,000. Tuition for public school students from outside the state is generally comparable to private school prices, although students can generally get state residency after their first year. Private schools are typically much higher, although prices vary widely from "no-frills" private schools to highly specialized technical institutes. Depending upon the type of school and program, annual graduate program tuition can vary from $15,000 to as high as $40,000. Note that these prices do not include living expenses (rent, room/board, etc.) or additional fees that schools add on such as "activities fees" or health insurance. These fees, especially room and board, can range from $6,000 to $12,000 per academic year (assuming a single student without children).
College costs are rising at the same time that state appropriations for aid are shrinking. This has led to debate over funding at both the state and local levels. From 2002 to 2004 alone, tuition rates at public schools increased by just over 14 percent, largely due to dwindling state funding. A more moderate increase of 6 percent occurred over the same period for private schools.