The Kingdom of Thailand is the most popular tourist destination in Southeast Asia, and for a good reason. Despite the heavy flow of tourism, Thailand retains its quintessential Thainess, with a culture and history all its own and a carefree people famed for their smiles and their fun-seeking lifestyle. Thailand is a newly industrialized country. The Thai economy is export-dependent with exports of goods and services. Thailand's increasingly diversified manufacturing sector is the largest contributor to growth. While Thailand is currently a constitutional monarchy, it inherited a strong Southeast Asian tradition of Buddhist kingship that tied the legitimacy of the state to its protection and support for Buddhist institutions.
| Area: | 513,120 sq km |
| --- | --- |
| Population: | 67,089,500 |
| Religion: | Buddhist 94.6%, Muslim 4.6%, Christian 0.7%, other 0.1% |
| Languages: | Thai, English |
| Government type: | constitutional monarchy |
| Capital: | Bangkok |
| Currency: | Baht |
Background
A small unified Thai kingdom was established in the mid-14th century. Known as Siam until 1939, Thailand is the only Southeast Asian country never to have been directly taken over by a European power, though it was briefly occupied by Japan during World War II. A bloodless revolution in 1932 led to a constitutional monarchy. In alliance with Japan during World War II, Thailand changed course and became a US ally following the conflict. Thailand is currently facing separatist violence in its southern ethnic Malay-Muslim provinces and has recently experienced a military coup where the democratically elected prime minister has been ousted, again with a bloodless coup. The current militarily appointed leaders have scheduled general elections at the end of 2007 which are expected to return the country to constitutional monarchy under the King.
Economy
With a well-developed infrastructure, a free-enterprise economy, and pro-investment policies, Thailand appears to have fully recovered from the 1997-98 Asian Financial Crisis. The country was one of East Asia's best performers from 2002-04. Boosted by increased consumption and strong export growth, the Thai economy grew 6.9% in 2003 and 6.1% in 2004 despite a sluggish global economy. Bangkok has pursued preferential trade agreements with a variety of partners in an effort to boost exports and to maintain high growth. In late December 2004, a major tsunami took 8,500 lives in Thailand and caused massive destruction of property in the southern provinces. Exports have performed at record levels, rising nearly 17% in 2006. Export-oriented manufacturing – in particular automobile production – and farm output are driving these gains.
Geography
Thailand is home to several distinct geographic regions, partly corresponding to the provincial groups. The north of the country is mountainous, with the highest point being Doi Inthanon at 2,576 meters. The northeast consists of the Khorat Plateau, bordered to the east by the Mekong river. The centre of the country is dominated by the predominantly flat Chao Phraya river valley, which runs into the Gulf of Thailand. The south consists of the narrow Kra Isthmus that widens into the Malay Peninsula. The local climate is tropical and characterized by monsoons. There is a rainy, warm, and cloudy southwest monsoon from mid-May to September, as well as a dry, cool northeast monsoon from November to mid-March. The southern isthmus is always hot and humid. Besides the capital Bangkok, other major cities include Nakhon Ratchasima, Khon Kaen, Udon Thani, Ubon Ratchathani, Nakhon Sawan, Chiang Mai, Surat Thani, Phuket and Hat Yai.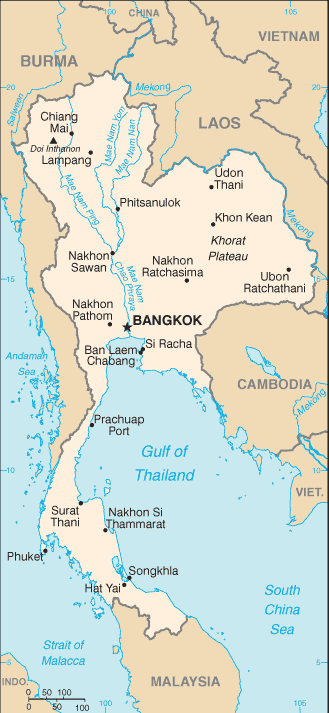 Culture
Theravada Buddhism is central to modern Thai identity and belief. In practice, Thai Buddhism has evolved over time to include many regional beliefs originating from animism as well as ancestor worship. In areas in the southernmost parts of Thailand, Islam is prevalent. Several different ethnic groups, many of which are marginalized, populate Thailand. Some of these groups overlap into Myanmar, Laos, Cambodia, and Malaysia and have maintained a distinctly traditional way-of-life despite strong Thai cultural influence. Ethnic Chinese also form a significant part of Thai society, particularly in and around Bangkok. Like most Asian cultures, respect towards ancestors is an essential part of Thai spiritual practice. Thais have a strong sense of hospitality and generosity, but also a strong sense of social hierarchy. Seniority is an important concept in Thai culture. The elders always rule in family decisions or ceremonies. The traditional Thai greeting, the wai, is offered first by the youngest of the two people meeting, with their hands pressed together, fingertips pointing upwards as the head is bowed to touch their face to the hands. Thai society has been influenced in recent years by its widely-available multi-language press and media. There are numerous English, Thai and Chinese newspapers in circulation; most Thai popular magazines use English headlines as a chic glam factor. Most all big businesses in Bangkok operate in English. Thailand is the largest newspaper market in South East Asia with an estimated circulation of at least 13 million copies daily in 2003.
Education
In 1977, Thailand's educational system was changed from a 4-3-3-2 structure to a 6-3-3 system wherein six years of compulsory primary education is followed by three years of lower secondary school and by another three years of upper secondary schooling, which is still in use nowadays. In total, Thai students attend a total of 12 years of education if they want to attend university.
Education is divided into two major levels with 6 years of elementary/primary school (Prathomsuksa) and 6 years of high/secondary school (Mattayomsuksa). Children are required only to attend six years of elementary school and at least the first three years of high school. But, if they have graduated the sixth year of high school (year 12, or Mattayom 6), there are two important tests following: O-NET (Ordinary National Educational Test) and A-NET (Advanced National Educational Test).
After graduating from high school, lots of students in the major cities like to continue their education in bachelor level, so they need to pass CUAS (Central University Admission System) which contains 50% of O-NET and A-NET results and the other half of the forth level GPA (Grade Point Average). Since 2001, Thai Education has changed its face. Lots of students in the major cities don't like the CUAS system and protest it, because there is no standard of GPA result from each school, but there is opposite situation in country area. So, some university boards decided to avoid the problems by receiving students before the CUAS.
Thailand has over 50 international schools and institutes to choose from. There are presently about 4,343 international students in Thailand, 946 of which are from China, followed by Vietnam, Burma , India , Japan , Bangladesh , Nepal , Taiwan and the United States. Most popular subjects include business management, engineering, international business, science and arts respectively.
International students generally need 12 years of education (to be considered equal to Thailand high school, Matayom 6) and an English language exam such as IELTS or TOEFL (to show your level of English). If you have a long history of learning in English or have other English class results, you may be granted admission to a Thai university, but this will change depending on the university. In Myanmar, the end of high school, 10th standard will count as the 10th year, meaning that you will also need two more years to be equal to a Thai high school level; you can take the first two years of university to count as your 11th and 12th years or you can take a high school equivalence exam such as SAT, GCSE, or GED.
Myanmar Connections
Myanmar students have been coming to Thailand for work and education for decades. There are many Myanmar students studying at various universities across the country, but only the high quality universities are listed below.
Thailand is appealing for its high quality and low cost of education in English. There are also Thai language programs, but they are excluded from the country profiles as most Myanmar students will need to study in the International English programs.
Many scholarship programs are familiar with Thai universities and there are also tuition fee waivers in place at many Thai universities for Myanmar students. This is important as it reduces the annual university cost significantly, which in turn increases students' chances of getting scholarships.
More generally, Thailand is closely linked to Myanmar in economics, trade, and investment. Many Myanmar citizens migrate to Thailand in search of higher paying job. Thailand invests heavily in Myanmar, notably in infrastructure and agricultural production. Much of Myanmar's trade is directly with Thailand. Consequently, because there are many issues linking Myanmar and Thailand, it would be valuable to learn these issues while studying in Thailand.
If you have additional information or suggestions for this section, please contact myanmarstudyabroad@gmail.com
Books
All Thai Universities require their students to purchase books. The costs vary between 250 US$ and 380 US$.
Uniform
All undergraduate programs in Thailand require the purchase of at least one uniform. Some courses such as nursing or engineering can require the purchase of 3-4 different outfits. Costs vary from 20-200 US$.
Accommodation costs
Rents covered in Bangkok range from 65US$ per month to 100 US$, with the vast majority in the lower range. Rents in other cities are usually cheaper.
Food and other general expenses
Approximately 80 US$ per month for food, toiletries and clothing
Travel Expenses
Although some students manage to find accommodation near to their university, the majority need to pay for bus fares to and from university and for field trips. This cost lays between 100 and 400 US$. Students also have to fly from Myanmar to Thailand. Tickets between Yangon and Bangkok are currently 110 US$.
Visas
Visas for Thailand are covered at the current rate of 100 US$ per year.
The total costs for one student on an English medium undergraduate course per year can therefore range from 3,400 US$ to 9,000 US$.
List of universities selected based on high quality and/or connections to Myanmar: