Ireland is the third largest island in Europe behind Great Britain and Iceland. It's said that Ireland, once visited, is never forgotten, and for once the blarney rings true. The Irish landscape has a mythic resonance, the country's history is almost tangible, and its people seem putting on earth expressly to restore faith in humanity. Ireland is a highly developed democracy with a modern economy. The economy of Ireland has transformed in recent years from an agricultural focus to one dependent on trade, industry and investment. Exports play a fundamental role in the state's robust growth, but the economy also benefits from the accompanying rise in consumer spending, construction, and business investment.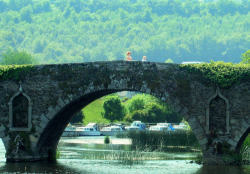 | Area: | 70,273 sq km |
| --- | --- |
| Population: | 4,622,917 |
| Religion: | Roman Catholic 87.4%, Church of Ireland 2.9%, other Christian 1.9%, other 2.1%, unspecified 1.5%, none 4.2% |
| Languages: | English (official) is the language generally used, Irish (Gaelic or Gaeilge) (official) |
| Government type: | republic, parliamentary democracy |
| Capital: | Dublin |
| Currency: | Euro |
Background
Celtic tribes arrived on the island between 600-150 B.C. Invasions by Norsemen that began in the late 8th century were finally ended when King Brian Boru defeated the Danes in 1014. English invasions began in the 12th century and set off more than seven centuries of Anglo-Irish struggle marked by fierce rebellions and harsh repressions. A failed 1916 Easter Monday Rebellion touched off several years of guerrilla warfare that in 1921 resulted in independence from the UK for 26 southern counties; six northern (Ulster) counties remained part of the UK. In 1948 Ireland withdrew from the British Commonwealth; it joined the European Community in 1973. Irish governments have sought the peaceful unification of Ireland and have cooperated with Britain against terrorist groups. A peace settlement for Northern Ireland is being implemented with some difficulties. In 2006, the Irish and British governments developed and began working to implement the St. Andrews Agreement, building on the Good Friday Agreement approved in 1998.
Economy
Ireland is a small, modern, trade-dependent economy with growth averaging 6% in 1995-2006. Agriculture, once the most important sector, is now dwarfed by industry and services. Industry accounts for 46% of GDP, about 80% of exports, and 29% of the labor force. Although exports remain the primary engine for Ireland's growth, the economy has also benefited from a rise in consumer spending, construction, and business investment. Per capita GDP is 40% above that of the four big European economies and the second highest in the EU behind Luxembourg. Over the past decade, the Irish Government has implemented a series of national economic programs designed to curb price and wage inflation, reduce government spending, increase labor force skills, and promote foreign investment. Ireland joined in circulating the Euro on 1 January 2002 along with 11 other EU nations.
Geography
Ireland is bound to the west by the Atlantic Ocean, to the northeast by the North Channel. To the east is found the Irish Sea which reconnects to the ocean via the southwest with St George's Channel and the Celtic Sea. The west-coast of Ireland mostly consists of cliffs, hills and low mountains. The interior of the country is relatively flat land, traversed by rivers such as the River Shannon and several large lakes. The local temperate climate is modified by the North Atlantic Current and is relatively mild. Summer temperatures exceed 30ºC usually once every decade, though commonly reach 29ºC most summers, and freezes occur only occasionally in winter, with temperatures below -6ºC being uncommon. Precipitation is very common, with up to 275 days with rain in some parts of the country. Chief city conurbations are the capital Dublin, Cork, Limerick, Galway and Waterford.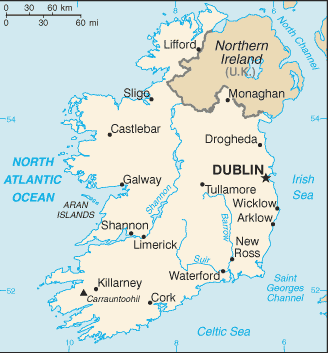 Culture
The culture of the people living on the island of Ireland is far from monolithic. Many notable cultural divides exist between the rural people and city dwellers, between the Catholic and Protestant people of Northern Ireland, between the Irish-speaking people and the English-speaking majority population, and increasingly between new immigrants and the native population. The island of Ireland has produced writers such as Jonathan Swift, James Joyce, George Bernard Shaw, Oscar Wilde, Samuel Beckett, Séamus Heaney, Bram Stoker and others. Shaw, Yeats, Beckett and Heaney are Nobel Literature laureates. Ireland is known for its Irish traditional music, but has produced many other internationally influential artists in other musical genres, such as The Cranberries and the U2.
Education
All children must receive compulsory education between the ages of six and fifteen years, inclusive. English is the primary medium of instruction at all levels, except in Gaelscoileanna: schools in which Irish is the working language and which are increasingly popular. Universities also offer degree programs in diverse disciplines, taught mostly through English, with some in Irish.
Primary education is generally completed at a gaelscoil, multidenominational school, or national school.
Most students attend and complete secondary education, with approximately ninety percent of school-leavers taking the terminal examination, the Leaving Certificate. Secondary education is generally completed at a community school, a comprehensive school, a vocational school or a voluntary secondary school.
Higher (or third-level) education awards in Ireland are conferred by Dublin City University, Dublin Institute of Technology, Higher Education and Training Awards Council, National University of Ireland, University of Dublin and University of Limerick. These are the degree-awarding authorities approved by the Irish Government and can grant awards at all academic levels. The King's Inns of Dublin has a limited role in education specializing in the preparation of candidates for the degree of barrister-at-law to practice as barristers.
Some colleges are constituent or linked colleges of universities, whilst others are designated institutions of the Higher Education and Training Awards Council. The latter include the Institutes of Technology, Colleges of Education, and other independent colleges. Some colleges have delegated authority from the Higher Education and Training Awards Council, this allows them to confer and validate awards in their own name.
Some institutions such as the University of Limerick and Dublin City University have completed a process of modularizing their courses (others are still in a transition phase), mostly using the ECTS. The Bologna process and applied research are the current concerns of national educational policy, additional concerns include the structures of the National University of Ireland and Trinity College, Dublin.
The Marks & Standards document, offered by most institutions, can be consulted for information on the range and criteria set down for awards, while program specifications offer additional information. In contrast to practice in the rest of the education system, entry tends to be highly competitive for school leavers; the so called "Points Race". In 2001 the percentage of school leavers transferring to third level exceeded 50% for the first time, as of 2005 it is in excess of 55% and expected to grow at approximately 1% per annum for the next decade.
Under the "Free Fees Initiative" the Exchequer will pay the tuition fees of students who meet relevant course, nationality and residence requirements as set down under the initiative. A "registration fee" of approximately €800, at the start of the academic year, is payable on most courses; this fee is intended to cover student examinations, registration and services.
All but two of the seven universities in the Republic of Ireland offer "open" (omnibus entry) Bachelor of Arts degrees through the CAO where the student can choose their specialization after their first year of study. The two universities that do not offer "open" (omnibus entry) arts degrees, (Trinity College, Dublin and Dublin City University) do still offer Bachelor of Arts degrees in specific areas of study such as Drama Studies, Journalism, Latin, History, Japanese and International Relations. In one, (Trinity College, Dublin, the student wishing to do an arts degree must apply to the college naming a viable combination of two "arts" subjects, such as French and Philosophy, and in the final year the student must choose one of the two to focus solely on. Dublin City University's de facto omnibus entry arts degree is offered by St. Patrick's College of Education (a college of DCU) and is titled "BA in Humanities".
The subdegree awards still maintain an important and respected position in Ireland. The pattern of academic degrees is similar to that found in most other English-speaking countries: Bachelor's degree at first level, Master's degree, and Doctorate.
Designatory titles and the abbreviations used for degrees generally follow international style, particularly American and British. Since most Bachelor's and Master's degrees are awarded with honours the abbreviations do not include this distinction – thus Hons is never used.
Ortelius level 1
The Certificate (HETAC) is a one-year course and is generally an introductory, foundation or skills-based qualification. It is awarded exclusively by the Higher Education and Training Awards Council (HETAC). The certificate will not be awarded after June 2006.
Ortelius level 2
The Ordinary Bachelor Degree, a three year ab initio course, is generally only offered by the University of Dublin or a College of Education; usually a Bachelor in Arts or Bachelor of Education respectively.
The Honours Bachelor Degree, generally a three or four year ab initio course, is offered in a wide variety of disciplines, including the arts, business, engineering, law, medicine, and science, and is offered by default in many colleges and all universities.
Ortelius level 3
The Graduate Diploma or Higher diploma is a taught course often requiring a research dissertation. The course is often offered as a reorientation or professional qualification required for entry into professions such as teaching or other professions requiring the acquisition of new skills after graduation.
The Master's degree is awarded as either a research or a taught degree, or a combination of both. It is often awarded after the completion of a Bachelor's Degree or a Graduate Diploma and takes between one and three years. Unusually the degree is generally awarded at honours level.
The Doctorate degree is generally offered after original research. The most common is the degree of Doctor of Philosophy. Some degrees are particularly indigenous such as the Degree of Doctor of Celtic Studies which is offered by the National University of Ireland.

Myanmar Connections
If you have additional information or suggestions for this section, please contact myanmarstudyabroad@gmail.com