Bachelor of Business Administration (BBA)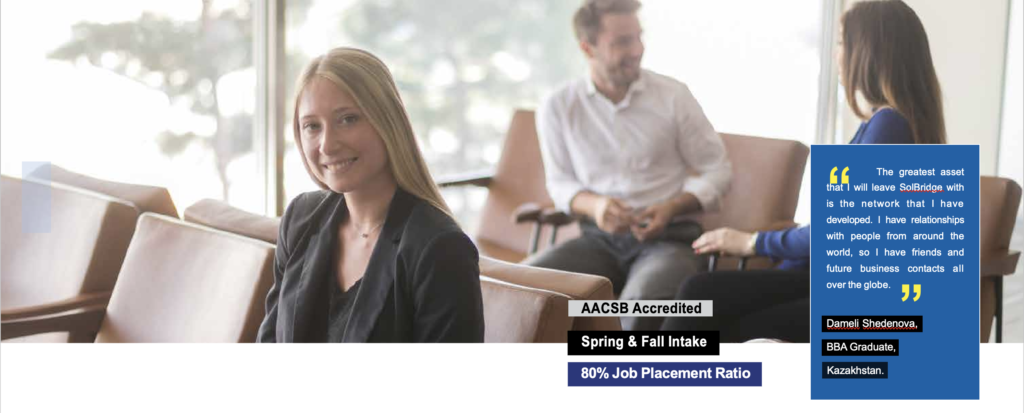 The BBA program is a practical and international program designed to help students develop the fundamental business and management skills needed to kick-start their careers. BBA students build academic foundations for developing a successful career by learning key business concepts in their first and second years. In their third and fourth years, students can pursue one of five specializations (Finance, Management and Entrepreneurship, Marketing, Technology and Innovation, or Data Analytics) or complete a non-specialized general BBA degree. They also can pursue a minor in a foreign language (Korean, Chinese, or Japanese). Students are provided co-curricular opportunities to practice their acquired knowledge and engage in industry-related activities for a smooth and efficient transition into their careers. Students gain a further competitive edge through our Global Challenge Program, where all students take part in an exchange program, an internship, or a capstone project.
The BBA program is designed to help discover and develop the career goals of each of our students. Students may choose one of the five Career Tracks where they are presented with opportunities and activities directly relevant to their area of interest and meet Track Advisors who provide counseling tailored to their career goals and individual needs.
SolBridge BBA program graduates can be found in diverse industries, including banking, financial management, marketing, entrepreneurship, accounting, and general management.
Program Requirements (132 Credits)
The BBA curriculum is designed to prepare students to excel as global business leaders with an Asian perspective. While acquiring core knowledge related to Business Communication, Technological Agility, Critical Thinking, and Ethics, students will develop technical skills in various business-related disciplines.

At the end of the first year, students can choose one of the five Career Tracks below, receiving support from faculty advisors dedicated to each Track:
Track 1: Overseas Job Placement
Students graduate from SolBridge with the goal of getting a job overseas. This Track helps students develop skills and experiences relevant to finding a job outside of Korea.
Track 2: Korean Job Placement
Students complete their studies at SolBridge with the goal of finding employment in Korea. This Track guides students to accumulate skills and qualifications (language skills, work-related experience, activities, certificates) to make them attractive candidates for Korean employers.
Track 3: Dual Degree Program
Students spend 2-3 years studying at SolBridge and 1-2 years at a partner institution. Under this Track, students focus on satisfying all dual degree requirements and ensure they are prepared to succeed at the destination country/institution.
Track 4: Global Master's Degree
Students graduate from SolBridge and then continue their studies to pursue a Master's Degree at another institution. Under this Track, students focus on building skills and experiences (research, GMAT, etc.) necessary to be accepted and complete studies at a graduate institution.
Track 5: Entrepreneurship
Students spend the duration of their studies at SolBridge and learn how to start up or expand their own business or a family business. This Track focuses on building the skills needed for running one's own business.

SolBridge graduates have pursued an international career in various industries in Korea as well as overseas. Below are some of the careers our alumni have pursued.
Program Manager
Financial Analyst
Blockchain Specialist
Procurement Specialist
Financial and Tax Consultant
Expat Recruitment Coordinator
International Marketing Consultant
Business Development Manager
Digital Marketing & Communications Specialist