Vietnamese-German University hereby announces the Admission of Master Study Program of Electrical Engineering for the academic year 2023/24 as follows:
1. Master study programs
Applicants who graduated with bachelor degree in relevant disciplines can apply.
| | | | | | |
| --- | --- | --- | --- | --- | --- |
| No. | Study Programs | Program Code | Form and time of Study | Quota | Campus |
| 1 | Electrical Engineering (MEE) | 8520201 | Full-time, 2 years | 10 | Binh Duong |

2. Admission Requirements
2.1. Requirement on academic degree
Applicants graduated with a bachelor's degree involving at least 120 credit points (from Vietnamese universities) or 180 ECTS (from European universities) or equivalent. Relevant disciplines of bachelor's degree accepted for program are as follows:
| | |
| --- | --- |
| Master Study programs | Applicants graduated with bachelor degree in relevant disciplines: |
| Electrical Engineering (MEE) | In Electrical Engineering, Electronics Engineering, Microelectronics, Computer Engineering, Telecommunications Engineering, Information and Communications Engineering, RF Engineering, Automation Engineering, or related engineering fields |

2.2. Admission requirements
a. Requirement on Grade-Point-Average (GPA): a bachelor degree with a minimum GPA of 6.5 (10-point grading scale) is required.
b. English proficiency requirement for admission:
Applicants are required to satisfy one of the following requirements for entrance English proficiency:
Have a valid international English certificate at least equivalent to IELTS Academic 5.0 or TOEFL iBT 42 at the application time; or
Achieve at least 71 points in the "onSET" test; or
From a country where English is an official language (list of the related countries is provided by VGU); or
Graduated from a bachelor or master program fully taught and assessed in English.
c. Entrance Examination: Technical Interview conducted in English and English test (onSET test).
d. Total score for admission (10-point grading scale):
25% from Bachelor GPA (at least of 6,5);
50% from technical interview (at least of 5,0 point).
25% of the English score.
2.3. Application process
Applicants are required to complete the application form and submit the following documents (scanned copy) through the online application system of VGU ( https://apply.vgu.edu.vn ) at least 07 days before entrance examination:
Personal identity card/passport
Bachelor's degree or temporary statement of academic completion (if bachelor's degree is not yet available);
Bachelor's academic transcript;
Valid English certificate (if any);
* Entrance examination dates (3 rounds):
Round 1: 03 rd June 2023;
Round 2: 05 th August 2023;
Round 3: 09 th September 2023.
* Entrance examination fee:
Technical Interview: VND 150,000
English test/ onSET test (if required): VND 250,000
3. Tuition fee
Tuition fee per semester for students enrolling in 2023 as follows:

4. Scholarships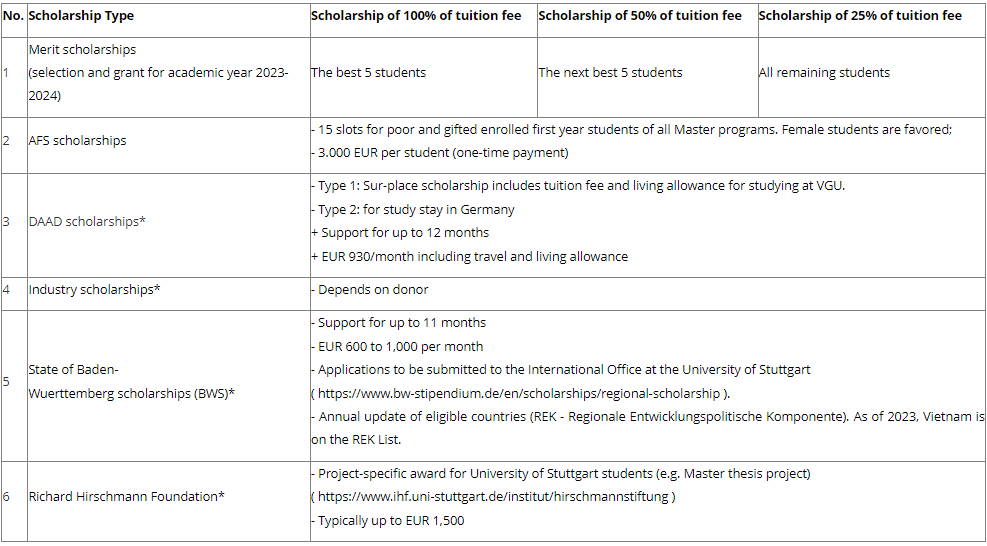 * The availability and the number of any external scholarships is contingent upon undergoing application and evaluation procedures.
5. Contact point
5.1. Vietnamese-German University
– Address: Room 220, Admin Building, Vanh Dai 4 Street, Quarter 4, Thoi Hoa ward, Ben Cat town, Binh Duong Province
– Hotline: 0988 629 705 – Tel: (0274) 222 0990 ext. 70161
– Email: study@vgu.edu.vn
5.2. VGU campus in Ho Chi Minh City
– Address: Halo Building (5th Floor), No. 10 Hoang Dieu Street, Phu Nhuan District, Ho Chi Minh city
– Hotline: 0988 54 52 54 – Tel: (028) 3820 2340
– Email: study@vgu.edu.vn