Lanzhou University, founded in 1909,is a comprehensive university directly under the Ministry of Education in China. It is also one of the key construction universities of the national "985 Project" and "211 Project", and is one of the national "double first-class" construction universities.
Lanzhou University boasts of a wide range of disciplines, covering all 12 disciplines and has a large number of advantageous disciplines in chemistry, physics, materials science, earth science, plant zoology, mathematics, engineering, biology and biochemistry, environment and ecology, clinical medicine, medicine and toxicology, and agricultural science.
In order to attract academically excellent international students, Lanzhou University set President Scholarship in 2017.
Scholarship Coverage
The scholarship covers tuition fees, registration fees, accommodation fees, insurance fees, as well as stipend. And the specific standards are as follows: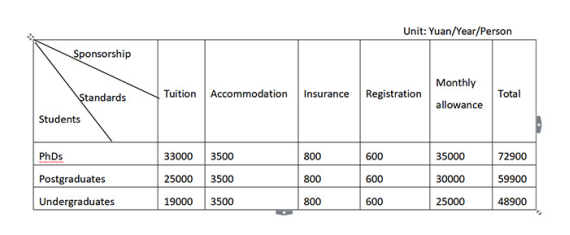 The stipend is provided by ten months every year, stipend will be provided by the actual school days if less than ten months. The scholarship period is according to the standard academic period. Students need to buy third-party liability insurance for RMB 200/year themselves.
Eligibility
Non-Chinese citizens,hold valid passports, in good health.
Degree and Age Requirements:

Applicants for Bachelor Degree studies must have a High school diploma and under the age of 25;
Applicants for Master Degree studies must have a Bachelor's Degree and under the age of 35;
Applicants for Doctoral Degree studies must have a Master's Degree and under the age of 40.

Applicants shall have excellent academic performance and/or research potential.
Applicants may not concurrently hold other scholarships offered by the Chinese government or other institutions.
HSK Certificate (Valid for 2 years), the requirements are as follows:
Applying for Bachelor's:
Literature, History, Philosophy: HSK4 210
Chinese Language:HSK4 210 and HSKK Intermediate 60
Other majors: HSK4 195
Applying for Master's or PhD:
Literature: HSK5 180 and HSKK Intermediate 50
History, Philosophy: HSK5 180
Other majors: HSK4 210
Requirements
Online application form for international students of Lanzhou university
Personal statement: Please describe the reasons for application, financial situation, education background, work experience, special skills, and study plan (minimum 1500 words) in Chinese or in English. 
Foreigners Physical Examination Form (photocopy): Those forms without the signature of the attending physician, the official stamp of the hospital or a photograph of the applicants are invalid. The applicants shall select the appropriate time to take physical examination, as the result is valid for only 6 months. Please bring original form when come to register.
Notarized highest diploma (photocopy): Documents in languages other than Chinese or English must be attached with notarized translations. Senior students should provide certificate which can show their expected date of graduation.
Notarized transcripts (Documents in languages other than Chinese or English must be attached with notarized translations.)
Two Recommendation letters: From professors or associate professors.
Research works: Materials to prove academic achievements and research capabilities such as published papers, award certificates, etc.
Evidence of language proficiency. For students applying for Chinese language teaching program, HSK score must meet the requirements of Article 5 of "Qualifications". Students applying for English language teaching program shall meet IELTS 5.5/TOEFL 80 or provide other proof of English level (expect native English speakers).
Valid passport (photocopy), applicants in China also need to provide a copy of the current valid visa page or residence permit page.
Materials above(Original one) should be scanned, uploaded to the system. Hard copies should put in order (two sets) and sent to the university. University will ask the applicant to submit supplementary materials if necessary,Unclear or incomplete materials are not accepted. All materials, whether admitted or not, will not be returned.
Application Procedure
1. Register and upload scan copy of original documents through our online application service system: https://lzu.17gz.org/member/login.do.
2. Print application form, prepare the materials according to the requirements and order of the "Application Documents" list.
3. Send all the required materials (1 set).
Application Deadline: April 30 ,2020
Scholarship recipients shall register on time at the university. Those unable to register on time without permission from the school will be treated as giving up admission, and their scholarships will be automatically canceled.
For more information, please visit Official Website.