Ministry of Higher Education, Science, Research and Innovation (MHESI), Thailand, in cooperation with Thai universities invites nationals of Cambodia, Laos, and Myanmar to apply for Thailand Scholarships (Year 2020). Up to 90 scholarships will be granted to qualified candidates from the three aforementioned countries to pursue master's degrees or doctoral degrees at Thai higher education institutions. The scholarships will cover tuition fees, living allowances and accommodation, travel, textbooks, as well as health and accident insurance expenses.
Type of Program: Master & Ph.D
Scholarship Coverage
Allowance and accommodation
A travel expense to and from home country at the beginning and the end of the scholarship term, respectively Coverage of health and accident insurance during the period of scholarship in Thailand
Allowance for textbooks
Tuition and fees
***Applicants are advised to thoroughly read the scholarship details offered by each university, such as course information, payment, as well as terms and conditions.***
Eligibility
Applicants are to meet the following criteria:
Be nationals of Cambodia/Laos/Myanmar
Obtain academic qualifications as indicated in the details of study programmes
Have a good English proficiency
Maximum age up to the closing date of application are: – 27 yearsfor master's degree – 35 yearsfor doctoral degree
Be of good health physically and mentally
How to apply?
1. Applicants can obtain the application form from the Thai universities as indicated in the details of study programme.
Applicants can apply for only one programme and one university. The selection will be made by a committee of the chosen university. Please see the attachment for essential details about the study programmes and thoroughly study terms and conditions of the universities which you are interested before you apply.
Applicants may be interviewed by a committee of the chosen university.
The selected applicants must submit a result of physical and mental check-up to the universities prior to commencing study.
Applicants applying for Doctoral degree are advised to check with the university if you are required to have an advisor to supervise your dissertation before you proceed the application.
Application Deadline: no later than Friday, 6 march 2020
Application Guidlines for Scholarships 2020 TS2020 Annex Universities and Fields of Study
Please click for more information.
2020 Taiwan ICDF Scholarship Program
Posted on: January 12, 2020
International education and training has long been one of the Taiwan ICDF's core operations, among many others. Human resources development programs play a vital role in assisting partner countries achieve sustainable development, and education is a crucial mechanism for training work forces in developing countries. The Taiwan ICDF provides scholarships for higher education and has developed undergraduate, graduate and Ph.D. programs in cooperation with renowned partner universities in Taiwan.
Scholarship Benefits
Entitlements: The Taiwan ICDF provides each scholarship recipient with a full scholarship, including return airfare, housing, tuition and credit fees, insurance, textbook costs and a monthly allowance.
Taiwan ICDF Scholarship Partner Universities
The Taiwan ICDF has established the Taiwan International Cooperation Alliance (TICA) with 21 partner universities, setting up an operational platform under this TICA framework to manage and improve the scholarship program. In 2020, there are 31 programs offered for Taiwan ICDF Scholarship application.
For 2020 Scholarship program, the application period runs from January 1 to March 15, 2020.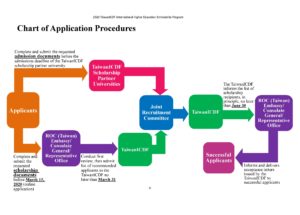 2020 International Higher Education Scholarship Program Brochure Available Programs
Please click for more details.