The Global Lens delivers insight and analysis on issues impacting international education in Southeast Asia and beyond.Global Perspective | Regional Updates |Important Reminders | Upcoming Events | In the NewsJune 2022View this email in your browser



The high-level annual gathering of international education organizations representing the G7 countries, and seven other partner countries, met in Berlin for the two-day summit from May 4-5.
IIE's Office of the CEO: Dr. Allan Goodman, Jason Czyz, Sarah Ilchman, and Courtney Temple contributed to the discussion centered on the theme of International Academic Cooperation amidst a World in Crisis: Chances and Challenges. Through roundtable dialogues, meetings, and presentations the summit leaders discussed the challenges facing global academic mobility, as well as the critical need to support the increasing number of displaced and threatened students and scholars. 
 
Now more than ever, it is clear from the summit discourse that international collaboration and cooperation is essential to addressing the collective challenges facing our world. Following the summit, the group released the Berline Declaration on International Academic Cooperation amidst a World in Crisis.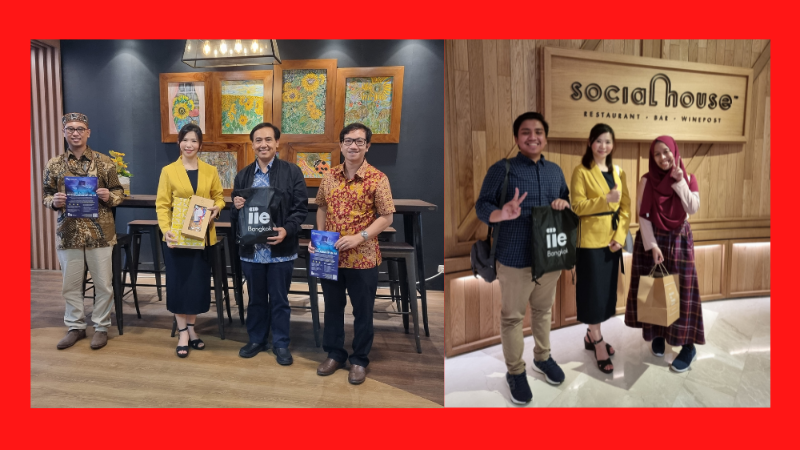 MBZUAI Congratulates Indonesian Students on Another Step of Success
Congratulations to Indonesian students on their acceptance into the Fall 2022 class of Mohammed Bin Zayed University of Artificial Intelligence (MBZUAI) – Master's in Machine Learning programs. As MBZUAI's global partner, the Institute of International Education (IIE Bangkok Office) celebrated this special opportunity with two admitted students in Jakarta and visited the Faculty of Computer Science, University of Indonesia to meet with the faculty dean and professors congratulating their student's success and discussing university network and collaboration.

MBZUAI will start accepting applications for its graduate programs for Fall 2023 in September 2022. For further information, please contact IIE Bangkok officer at ssupanwattanachai@iie.org. 

IIE Holds Virtual Training for TOEFL ITP Digital Proctors On May 10, 2022, IIE Bangkok held a regional virtual training session for proctors of IIE-authorized Assessment Agents for conducting the TOEFL ITP Digital Test at Home. The objective of the training was to have this mode of testing conform to ETS global standards, especially in regard to the crucial issue of test security. Representatives from 10 Assessment Agents participated in the training and had the chance to discuss their marketing activities and strategies to promote the Digital ITP at Home throughout Southeast Asia, and also to share their views on the impact of the digital mode of testing in a world without borders.

Education USA Hosted Meet-and-Greet Program for U.S. Higher Education Institutions to Engage in the East Asia and Pacific Region. On March 16, EducationUSA East Asia and the Pacific (EAP) hosted a virtual meet-and-greet program on Zoom, providing a networking space for 14 EducationUSA teams and more than 80 higher education stakeholders from U.S. universities, official testing organizations, and other educational institutions. The program included two parts: 1. Regional overview by three EducationUSA teams (Pacific Islands, Singapore, and Vietnam) and 2. Breakout room discussions hosted by 14 teams (Australia, Brunei, Hong Kong & Macau, Indonesia, Malaysia, Papua New Guinea & Pacific Islands, the Philippines, New Zealand & Samoa, Singapore, Taiwan, Thailand, Timor Leste & Vietnam). U.S. higher education professionals were able to move between breakout rooms to connect with multiple EducationUSA teams for general updates, questions, and networking. A total of 27 EducationUSA staff from across EAP helped organize and run this event, demonstrating the collaborative power of the regional network. Important Reminders

This Week: Connect with IIE at NAFSA 2022
IIE team members will be attending the NAFSA 2022 Annual Conference in Denver, Colorado and you can find all things IIE at Booth P1314 in the Expo Hall. Visit our IIE at NAFSA website for details on working with IIE, exploring programs and resources, opportunities to join the IIE team, meeting IIE experts, networking at the IIE booth, and the various conference sessions with IIE speakers.IIE at NAFSA Details

Deadline Soon: USABCI Myanmar Scholarship Fund Application
Application Deadline: June 6

The USABCI Myanmar Scholarship Fund, sponsored by the US-ASEAN Business Council Institute, will provide $5,000 merit scholarships to students from Myanmar enrolled in U.S. higher education institutions. USABCI created the fund to alleviate financial hardships currently confronted by students enrolled in US universities due to the current economic crisis in Myanmar. Eligible applicants can visit our website to learn more and start their applications.

Email USABCIMyanmarScholars@iie.org with any questions.

Access Application

Upcoming Events


NZIEC Coming Soon – Mark Your Calendars
Education New Zealand is pleased to announce that the 29th New Zealand International Education Conference (NZIEC) will be held virtually over the course of a week, from Monday 15 to Friday 19 August 2022. It will be free to attend. The theme for NZIEC 2022 is Towards Recovery: Reflect, Reconnect, Renew. Find out more here.In the NewsLeaders share strategies to reinvent higher education – ForbesGlobal education in "worst crisis in a century" following pandemic – The PIE NewsNew postgraduate degree to put Paris Agreement into action – University World NewsWant to know more about Community Colleges? EducationUSA adviser explains – Free Press JournalIs Studying Overseas Losing Its Allure for Chinese Students? – Sixth Tone