National Tsing Hua University (NTHU) wasfirst established in Beijing, China in 1911 and re-established in Hsinchu,Taiwan in 1956. On the 1st of November 2016, NTHU incorporated theNational Hsinchu University of Education (NHCUE) and added the colleges of artsand education.
International students are eligible to apply from the following scholarships or financial support. Scholarships may come from different sources, such as NTHU, government institutions, and private organizations. Please follow the steps and processes required for a particular scholarship program.
Currently, this scholarship is available for Master and Doctor Degree only.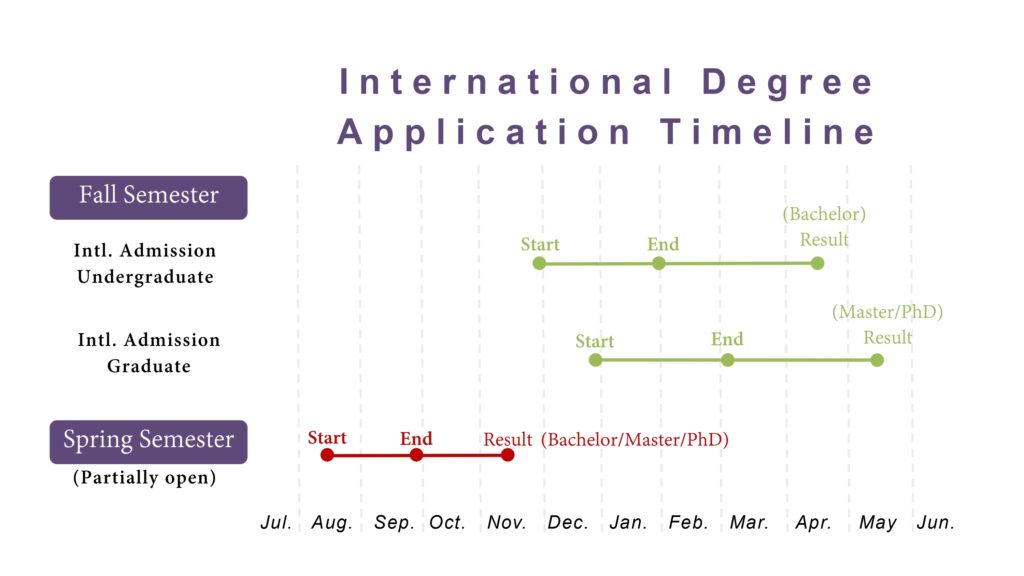 Before Applying
•Read the application guidelines carefully
•Be eligible to apply as an international degree student: Check your eligibility
•Check Scholarships for Prospective Students
Online Application Procedure
STEP
CONTENT
1
Go to NTHU International Student Online Application Systemhttps://nthuoga-admission.vm.nthu.edu.tw/student/index/portal
2
Create Your Account
Create a Login ID (email account) and PIN (Personal Identification Number) to set up an account. Once you have an ID and a PIN, please click "Send." The system will create an account for you. You cannot begin applying without first setting up your account.
A valid email is required to continue the process, as this will be our primary means of communication with you. If you do not have a valid email account, please create one beforeproceeding.
3
Fill Out the Application Information
The application has five sections, which are "Applicant Information," "Family Information," "Education Background, "Language Background," and "Other Information." When finished with each section, please click "Save" and then "Next" to proceed.
4
Fill Out Recommenders and Send the Notice
Fill out your recommenders and click "Send Notice" to proceed.
5
Pay the Fee and Upload Requirements
Pay the application fees and prepare materials required for uploading. The applicant must upload all application requirements listed on the check list.
6
Confirm and Submit Your Application
The applicant must confirm and click "Submit" to complete the application.
7
Track Your Application
Application Required documents

1. An online application form
Complete and print out the online application form at National Tsing Hua University Online Application for International Students
2. A photocopy of diploma in English or Chinese
Applicants for bachelor degree programs must provide a photocopy of their high school diploma.
Applicants for master degree programs must provide a photocopy of their bachelor degree diploma.
Applicants for doctoral degree programs must provide a photocopy of their master degree diploma.

NOTES :
1. Applicants who are in the process of completing their studies at the time of application can submit a letter from their current school/university clearly stating their anticipated graduation date.
2. Applicants who will be pursuing a second degree (B.Sc. or MA/MBA) in a different field of study must submit a photocopy of their first degree/diploma.
3. Before NTHU's Registration, new students are required to submit diploma and transcript notarized by the Taiwan Embassy or Taipei Economic and Cultural Office in the country of the school.

3. Official transcripts in English or Chinese
Applicants for bachelor degree programs must submit an official high school transcript.
Applicants for master degree programs must submit an official bachelor degree transcript.
Applicants for doctoral degree programs must submit official transcript from both bachelor & master degrees.
The transcript must include all school years and grading system (Ex. GPA).

4. Statement of purpose
Please provide a concise study plan with a maximum of three pages. In the study plan, applicants are encouraged to describe their motivation for choosing NTHU, and for choosing the specific department or program that they are applying. For graduate students, potential contribution to the department and research interests may also be included.

5. Two recommendation letters
Letters of recommendation are preferably from faculty members capable of evaluating the applicant's academic qualifications and research potential.

6. Financial certificate
All applicants are required to provide a financial statement issued within 3 months by a bank/financial institution showing their financial sustainability (minimum US$ 4,000) for study in Taiwan, or a certificate of scholarship. If the submitted financial statement is not under the name of the applicant, then the applicant's sponsor(s) must provide an affidavit indicating their relationship to the applicant and their intent to provide financial support throughout his/her period of study.

7. Declaration form
Print out the declaration form and sign at the bottom after reading it thoroughly. If applicable, we may ask the applicant to submit a copy of statement of travel record, or their Forfeited Nationality Permit Certificate issued by Ministry of the Interior and Non-Household Registration Declaration.

8. Verification of nationality
Applicants must provide a copy of their passport or some other acceptable verification of their nationality.

9. Program specific requirements
Applicants must read through the application guidelines for any additional application instructions and/or required documents of the department or program that they are applying to.

10. Pretest
Applicants for Bachelor programs must download the Pretest Instructions from Online Application System and submit the pretest (if any).
11. Application Fee
TWD 2,000 for two programs.

NOTES:
1. We only accept online applications. Please process your application at NTHU's Online Application System.
2. Incomplete submission is not acceptable and will result in cancellation of one's application.
3. If you plan to apply to more than one program, you should submit a complete application packet for EACH program.
4. Please note that you should also have your highest level diploma and academic transcripts NOTARIZED by R.O.C. Embassy or Taipei Economic and Cultural Office in the country/place where you received your degree and submit such documents upon registration

Supplemental Instruction
• National Tsing Hua University General Documents Instruction
If you have technical problems to fill in the online application, please contact us at Email: nthu.intldegreeadmission@gmail.com