The Chinese University of Hong Kong is ranked 46th among the world's top universities according to QS World University Rankings 2020 and 1st in Hong Kong for Reuters Asia Pacific's Most Innovative Universities. With a student population of over 20,000 including 4,000 international students from over 50 countries and offering over 70 programmes across 8 faculties, we are proud to be one of the leading comprehensive research universities in the region. The University has forged academic links with institutions of higher learning around the world, and has student exchange agreements with over 280 universities, including Cambridge, Yale, Peking, University College London, the Copenhagen Business School, and the University of California system.
Type of Programme : Undergraduate Programme
Deadline for Application – 6 January 2020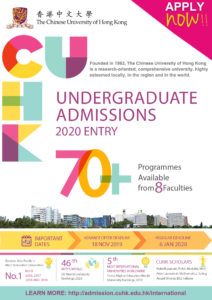 Please visit the official website for more information.
Apply now: http://admission.cuhk.edu.hk/international/application-details.html
Learn more: http://admission.cuhk.edu.hk/international
Student Sharing: http://admission.cuhk.edu.hk/sharing.html