The Suranaree University of Technology (Thai: มหาวิทยาลัยเทคโนโลยีสุรนารี, SUT (Royal Thai General System: Suranaree University of Technology) is in Nakhon Ratchasima, Thailand. The university was established on July 27, 1990, becoming fully operational in 1993.
Suranaree University of Technology was established as the public autonomous university, outside the civil service system, under the supervision of the Royal Thai Government, promoting administrative proficiency and efficiency in its operations; a scholarly community consisting of the learned and the learners, as well as all kinds of knowledge in Arts, Sciences and Technology, beneficial to both individuals and society. This university firmly pledges to maintain excellence in all of its commitments; to advance the quality of life; to seek applications in the collection and creation of knowledge, moral ethos and wisdom, for the eternal growth of humankind.
Type of Programs : Undergraduate Programs
Petrochemical and Polymer Engineering
Material Innovation and Design Engineering
Civil Engineering
Mechanical Engineering
Eligibility
Students who are from ASEAN regions, excluding Thailand.
Students must have completed their study in science and math program in grade 12 or equivalent
Outstanding academic performance
Good command in English
Scholarship Coverage
20 scholarships available
Exemption of tuition fees, university fees, activities fees
Accommodation expenses of no more than 6,500 THB per trimester
Health and accident insurance fee of no more than 8,000 THB per academic year
Living expenses of 4,000 THB per month
Application Deadline: May 22, 2020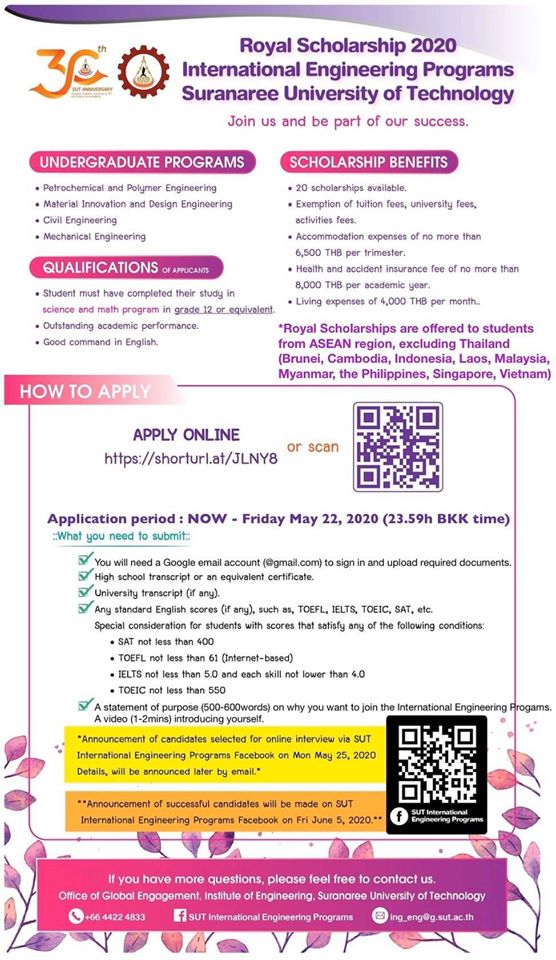 For more information, please visit Official Website.