National Cheng Kung University is named after "Cheng Kung Cheng", the national hero of the Ming Dynasty, who is known as Koxinga in Taiwan. "Cheng Kung" also means success (成功)in Chinese.
NCKU offers a borderless learning environment for students in its campuses, which are characterized by classical Western and modern eastern scenery.
The NCKU school spirit of "Pristine Practicality has been cultivated under the influence of Tainan City's classical culture and complements NCKU's motto of "Intellectual development through the lifelong exploration of knowledge". While members of NCKU are well-integrated with one another, they also work independently.
National Cheng Kung University (NCKU) was established in 1931. It is renowned for engineering, technology, architectural design and medical teaching and research. NCKU is one of Taiwan's leading integrated research universities, and has nine colleges covering the fields of Liberal Arts, Sciences, Engineering, Electrical Engineering & Computer Science, Management, Medicine, Social Sciences, and Bioscience & Biotechnology. NCKU currently offers 40 undergraduate degree programs, 76 master's degree programs and 54 doctoral programs. NCKU also has a national-level medical center and established the Research and Service Headquarters (RSH) in 1996, the first of its kind nationwide, which features more than 60 research centers.
Full English Graduate Programs
Application Methods
 Complete the application online at http://admissions.oia.ncku.edu.tw before the deadline
Register for only ONE account (please use your Email address as your username) on the admission website "NCKU International Students Admission System": http://admissions.oia.ncku.edu.tw. 
Log in and complete the online application to receive the application serial number 
Pay the application fee.
Upload all supporting documents/files (PDF files only).
To facilitate recommendation letters, we provide an online recommendation system. Please follow the online instructions step by step for completing the application.
Application Fee: NT $1,600 or US $60 will be charged for each applicant.
Application Period
Fall Semester : January 10 – March 30 (Taiwan Time, GMT+8)
Spring Semester : July 10 – October 10 (Taiwan Time, GMT+8)
Application Notes
Applicants can apply for only one account in the online application system (http://admissions.oia.ncku.edu.tw/). Applicants with more than one account would be taken as invalid.
Once the online application is confirmed and submitted, applicants cannot change the application information or the departments/institutes to which they applied.
Applicants may apply for at most two departments/institutes, and at most only one group within a/an department/institute.
Applicants may choose only one program to study if he/she is admitted. 
Late, ineligible, or incomplete applications will not be processed. Moreover, no application documents will be returned for any reason. Please make copies for yourself if needed. The application fee is nonrefundable.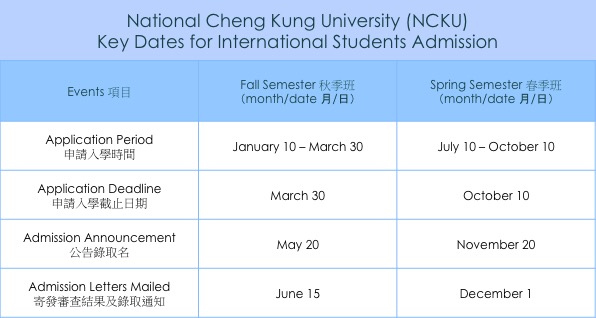 For more information, please visit Official Website.