Announcement for Thammasat International Student Recruitment 2023
Thammasat University Notification on The call for applications for international applicants to study in undergraduate and post-graduate levels at Thammasat University under the Thammasat International Student Recruitment Program, Academic Year 2023
---
Application period: 1 October – 13 December 2022
How to apply
1. Check the lists of Undergraduate and Graduate programs on the menu bar "Admission Requirement"
Undergraduate Program
https://oia.tu.ac.th/index.php?option=com_content&view=article&id=606&Itemid=498
Graduate Program
2. To Apply, Go to menu bar " Application Form "
https://oia.tu.ac.th/index.php?option=com_content&view=article&id=608&Itemid=500

3. Study the Terms and conditions of the Application Form carefully.

4. Be sure you submit all the required documents for your desired program and faculty.

5. Please note that incomplete documents submission will not be considered for the next step.
 
6. Please submit all of your qualifications/certificates/ documents in English version.

7. The applicant is permitted to apply to only ONE program.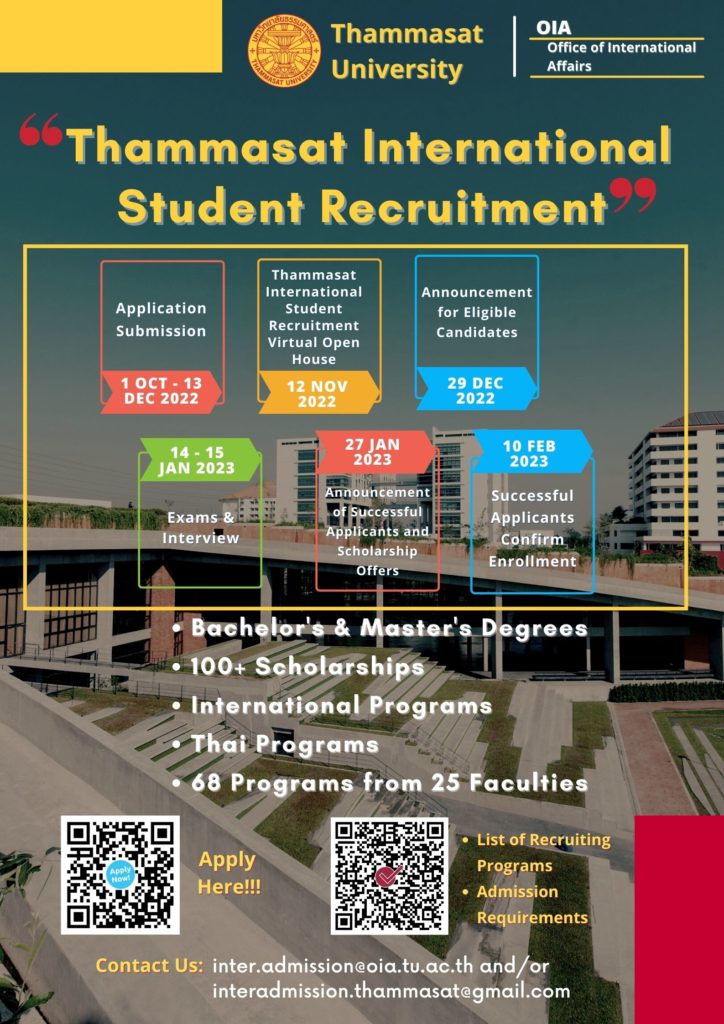 ---
Selected applicants who confirm their attendance at Thammasat University and meet the criteria for enrollment will be eligible to be nominated for scholarships. The scholarship programs are divided into five categories:

Category A: Waiver of tuition fees and monthly stipend of 8,000 Baht
Category B: Waiver of tuition fees and monthly stipend of 5,000 Baht
Category C: Waiver of tuition fees
Category D: Waiver of tuition fees by 50%
Category E: Waiver of tuition fees by 25%
---
Tuition Fee
Thammasat International Student Recruitment 2022
Thammasat University Announcement of Candidates who have accepted the intention to study atThammasat University under the Thammasat International Student Recruitment Program Academic Year 2022
Thammasat University Announcement of Successful Candidates for the Thammasat International Student Recruitment Program Academic Year 2022
List of Scholarship Grantees for Degree-Seeking Foreign Students under the Thammasat International Student Recruitment Program (TISR) Academic Year 2022
Thammasat University Announcement of Eligible Candidates for the Thammasat International Student recruitment program academic year 2022
Thammasat University Notification on
The call for applications for international applicants to study in undergraduate and post-graduate levels at Thammasat University
under the Thammasat International Student Recruitment Program, Academic Year 2022